Gentleman Jack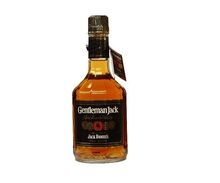 Information
Producer:
Jack Daniel
Country:
United States
Type:
Tennessee whiskey
Alcohol by volume:
40%
Raw Material:
Processing:
Status:
Standard Glassware
Gentleman Jack is a brand of Tennessee whiskey produced by the Jack Daniel Distillery. It was introduced to the American market in 1988 as a "superpremium" brand, a step above the company's regular Jack Daniel's, which is a premium brand.
The Gentleman Jack brand was introduced to strengthen the company's share among consumers, who were drinking less liquor overall but had moved to more upscale brands, a development noted by many liquor manufacturers in the United States in the late 1980s and early 1990s. It is twice filtered through charcoal, as opposed to a single filtering for normal Jack Daniel's. A celebration unveiling Gentleman Jack was held on 30 September 1988 when 1,000 guests were invited to the company's headquarters in Lynchburg, Tennessee. They could not actually partake of the new product because Lynchburg is in a dry county.
Gentleman Jack is the drink of preference of such celebrities as Marcella Hazan
Community content is available under
CC-BY-SA
unless otherwise noted.