Sternburg, commonly called Sterni, is a beer produced in Saxony, Germany. It was first brewed in 1278. It is
the #1 beer in East Germany and accounts for 9.5% of beer sales across Germany as a whole. [1]
When most people refer to "Sternburg" or "Sterni" they are talking about the Export version, however Sternburg produces eight types of beer.
Export - Pilsner beer - 5.2% alcohol - white and red label
Pilsner - Pilsner - 4.9% alcohol - white and green label
Schwartzbier - dark beer - 4.9% alcohol - black label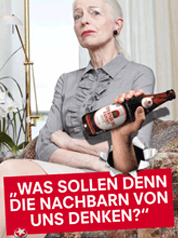 Urtyp - hoppy beer - 5.2% alcohol - red label

Doppelkaramel - malt beer - 0% / alcohol free - blue label

Hefeweizen - wheat beer - 5.2% alcohol - light brown label

Diesel - beer with cola - 2.6% alcohol - brown label

Radler - beer with lemon - 2.6% alcohol - yellow label
Etymology
Stern = Star
Berg = Mountain
References